Throwback Thursday – Harry Potter party part 1 – "You're a Wizard Harry!"
(OK so I didn't get this posted until today – Friday – but that's OK!!)
I am still trying to get used to this blogging thing.  Or maybe I should say, I am still trying to blog!  I am not really good at expressing myself through writing on a regular basis.  However, I am trying to get better at that since I am going to have to start posting more often.  But when  you run (by yourself) a self-owned print shop, keep your five year old with you most of the day, and the other two show up at three, well, there just isn't enough time in the day!  And even though I have yet to post a recent party I have done (like this past weekend's Frozen inspired party or the weekend before's movie themed party), I have decided that Thursdays (for awhile anyways) will be "Throwback Thursdays" and I will talk about past parties that I have done.  And if I can actually get them posted on Thursday, well, we will be doing good!  That's life!  At least life with me.  Blogging and writing isn't the gift God gave me.  My gift is being a hostess.  However, through that process and presenting it to the world and customers and well, whoever wants to see it, I must blog!!
The problem becomes where to start.  Do I start when I started selling party supplies online?  Do I start when I started trying to become more "stylish" or "trendy" with my parties?  Do I start when I first fell in love with the idea of party planning (nope that would put me at like 8 years old or something)?  Do I start when I first had kids and found how much I truly adored throwing parties because of them?  Yes, yes, that is where I will start.  So I will go back to my eldest's first birthday.  But wait, I don't know where her pictures are.  Maybe they are with the last 13 years worth of scrap booking I have never done.  Ok, new strategy, we are just going to work backwards with the parties I DO have pictures of and then hopefully I will find my pictures by then!  So that being said, I will start with the last party I threw for one of my kids that was not in the last couple months – a Harry Potter themed party.  And what a one to start with!  Oh how I love Harry Potter.  I was one of those people who was a little unsure of Harry Potter.  All that magic and sorcery – it was against the grain of what I thought I wasn't allowed as a Christian.  And I am not advocating for or against it for you.  HOWEVER, I do believe there are some things that each person has to weigh against their own personal convictions.  And it was my OWN personal conviction that after reading Harry Potter WITH my daughter, that it was a wonderful incredible world of MAKE BELIEVE.  That is all.  And I won't get into that because that is my own conviction, would take an entire post on it's own (possibly more) and this is not what this blog or post is about.  So back to my Harry Potter party and the love of all things Harry Potter – I will have to break this into two posts.  I will start with this one today and try to either post the rest tomorrow or will continue on next Thursday's "Throwback Thursday".  Also, please keep in mind that I was in a BIG hurry when I was taking pictures and also using my OLD iphone.  The pictures are not great.  And this was before professional photography for me.  But you do what you have to and work with what you have got!
We held this party on Halloween night.  Yes, that's right, Halloween night.  What was I thinking?  Well, I know what I was thinking –  how cool Halloween would be for this theme.  My eldest birthday is not until December, but we decided that going trick or treating and then coming back to a party would be just FABULOUS!  And what better day to have a Harry Potter Party!  And it was except… what a crazy hectic time!
We reserved a local conference room and a regular room at a hotel.  We planned the party in the conference room and then we stayed with some of the birthday girl's closest girl friends in the suite so they could swim and hang out after.  The conference room was a nice space and the hotel even let us use their breakfast / lounge room to "stretch out" into.  The staff at this place was incredibly helpful and amazing.  I wouldn't hesitate to go back and hold another party there.  However, what I would hesitate (and in fact run screaming away from) was to use the limo company again that we used. (photo edited to protect childrens' identity – you will see me doing that.  A lot.  I'm funny about that.)
They were awful!!!  We had decided to pick up the birthday girl and her friends from school in a limo to make a huge impact and give her birthday the "wow" factor for her.  This was a milestone birthday so I wanted it to shine for her.  We had called around and requested quotes several months ahead of time.  This company had the right price for the amount of time we needed.  They agreed to pick up the kids at school and bring them to the hotel and drop them off and then leave.  So we would only have the limo for a couple of hours total – which was what we had agreed to.  Then we would head out to a local Trunk or Treat in our own cars and then back to the party.  We had the limo pick us (my husband and I) up at the hotel as we were there decorating.  Keep in mind that we were having the party in a completely different town than where we lived.  And the limo was picking us up to drive back to our home town to pick up all the birthday kids.  Halfway there, the limo driver pulls off the side of the road and tells us we either take and pay for the limo for several more hours, or all night, or he will have to ask us to depart the vehicle and leave us there – WITH NO CAR!! and 11 kids waiting on us at their schools without their parents or us there to get them!!  My husband tried reasoning with the owners, but in the end, we agreed to pay for the night's entire service.  What can I say, I needed to get to my babies and my car was in an entire different town!!  That being said, the kids FLIPPED when we got there with the limo.  It was a surprise to most of them!  And it was worth every penny! (Even if I WAS bullied into keeping it).  Because we kept the limo, the kids all got to ride in it longer and those who didn't get to from school, got to ride to the trunk or treat in it.  It was a blast!!  Renting a limo is worth it – renting it from these people – not so much!  In the end , we just tried to focus on the positives.
The invitations
The invitations were made by myself – Shawna Fisher of Water Walker Events – Design – Planning.  I blocked out some information that I wanted to keep discreet.  So that is the blurry lines on the 2nd pic. I created distressed owls laid over a parchment background for the outside of the invitation.  The inside was a distressed parchment with twinkling sparkles (like magic!) and the Hogwarts crest screened into the background.  This was one of my leftover samples that was cut too close on the left side.  Yes, I have to mention it because I am not OCD about much of anything – except my artwork.  The invitation was then typed similar to a Hogwarts acceptance letter only it was an invitation to a Halloween party at Hogwarts (all inclusive of the leaving from Platform 9 3/4) and all !).  I printed the pages on a simple copy paper both sides.  I then created "scrolls" from cut dowel rods and spool tip ends (painted gold).  I hot glued the letters to the scrolls and rolled them up and tied them with red ribbon.  Each invitation was then tied to a white balloon with an owl drawn on it.  I hand delivered this to the kids at school for them to have the "owl post" feel to it.  (Can't find that pic at the moment so will edit it in later).  The kids truly loved this invitation and they were probably one of the most fun invites to make and deliver thus far!  You can order these (invites only – not balloons) by custom request via my Etsy shop or by emailing me at waterwalkerevents@yahoo.com .
The Party Décor – Honeyduke's Sweet Shop Sweets Table
The party consisted of a small sweets table that would be representative of "Honeyduke's Sweet Shop".  I found a free printables for the chocolate frog box and also the Bertie Bott's every flavor bean boxes.  However since then, those images I used have disappeared or been taken down.  I did find another free download for the Bertie's box here and it also comes with a tutorial.    And a chocolate frogs box template here also with a tutorial.  I did not create those.  I ran out of time, plus, if it is done, and it is free… why not?  Please keep in mind with most of those downloads – you are allowed a one time personal usage.  They are not to be resold but are allowed use in your personal parties or not charged for the actual art design for your party styling.  Please see copyright usage laws as I am not an attorney nor am I giving you permission or rights by mentioning them here in my blog.  Just simply giving you information.  I made popcorn boxes that I designed in a "Honeyduke's" inspired theme.  I also created a banner to resemble an awning in Honeyduke's colors.  It was supposed to be placed above the table, but in the scurry of trying to get things done, another banner was placed above the table and so that banner ended up going on the front of the table to save time.  The Honeyduke's diamond shaped sign was designed (inspired by their logo) and printed by me.  We just taped it to the front of the awning banner and then hung a mini one to hang above the table.  Most of the candy was ordered from oriental trading company.  The rock candy sticks were from Party City.  The pop rock packs were from our local Dollar Tree.  The "fizzing whizbees"  were chocolate bee pops I made and put pop rocks into.  The molds for the chocolate frogs and the bee pops were purchased off an Etsy shopped called Flavor Tools.  The fizzy candies in the box were ordered from one of my paper suppliers – go figure.  The popcorn was provided by Gameday Popcorn, Candy and Collectibles in Jenks.  They make THE BEST kettle corn!  I ordered some really cute chocolate Harry Potter shaped pops at this cute Etsy shop called LollisSweetsandTreat.  The photo is from the one off my order receipt and belongs to her and her shop.  I didn't have time grab a picture of mine on the table.  I do not own this photo – rights remain with her.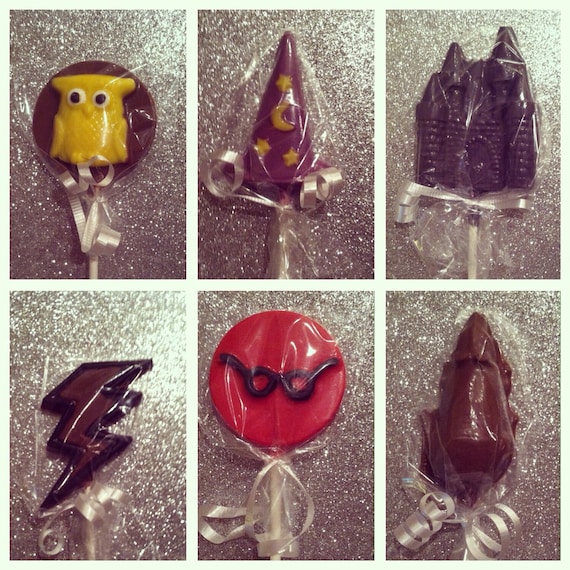 The wax lips were left over from a previous party and were ordered off of Amazon.com.  We had bubblegum in honeyduke colors and Halloween colors, chocolate pops, fizzy tab candy, pop rocks, rock candy sticks, chocolate candy eye balls, wax lips, sixlets, bertie botts beans (actually jelly bellies ordered off Amazon), Marshmallow sticks, rainbow lollipops, licorice swirl sticks, and kettle corn – all on the honeyduke sweets table.  I had also designed some Honeyduke inspired sweets shop tent card/labels that are hard to see in this picture but were also around the room in other spots (to be seen in later photos).  But here is a look at the art.  This art and any of the Honeyduke inspired partyware (banner, tents, signage, etc) can be purchased via custom request by email (waterwalkerevents@yahoo.com) or via a convo on my shop.
Table Food Tent / Labels          Mini signage                       Baggie Treat toppers                                  Mini popcorn boxes       Straw Flags
I will continue with the rest of the party details and décor tomorrow (or a later time!) so as to keep this post from becoming a novel!!   Thanks for reading!